Mind Gatekeeper of Arfa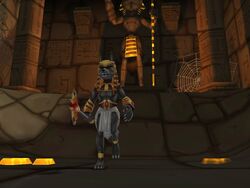 Level: 60
Location: Arfa's Tomb - 2nd Floor
The first mini-boss guarding arfa, has a pull skill which is used very often, making jumpbacks virtually pointless.
Skill List:
Edit
Rate of Movement Decrease - Decreases movement speed 40% for 20 seconds.
Pull - Pulls targets in front within 100 distance by 50 distance towards itself
Wake - 28% and 18% of HP, buffs attack speed 20% for 10 seconds.
Restoration - 8% of HP, regenerates 1% of HP per second for 5 seconds.
Ad blocker interference detected!
Wikia is a free-to-use site that makes money from advertising. We have a modified experience for viewers using ad blockers

Wikia is not accessible if you've made further modifications. Remove the custom ad blocker rule(s) and the page will load as expected.