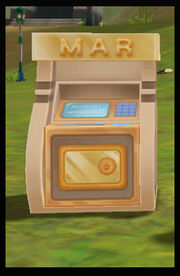 You can only have one account for each person. For the first time users, if you do not have an account with the Bank, then you will have to go through the registration process. You need to set a password, once it is set.

Password: 4-8 characters long. Remember your password as you cannot reset it manually once you forgot. You need to contact GMs to be able to reset your bank password.
Change Password:Edit
Without forgetting your password, you can change your current password by opening your bank then Click Change Password. Enter Current Password then New Password and Confirm Password.​ 112.202.46.206 12:39, August 19, 2013 (UTC)rynalvin31
Deposit:
Mars: Minimum of 100 Mars. 3% charge per deposit.
Items: 30 Mars for every item that you deposit.
Withdrawal:

Quest:
Create a bank account - there will be a series of "tutorial" quests on interfaces such as Mail, Dorm, and Bank quests available once level 10 is achieved, which will enable you to, amongst other things, create your own bank account. .
See also: Club Bank
Ad blocker interference detected!
Wikia is a free-to-use site that makes money from advertising. We have a modified experience for viewers using ad blockers

Wikia is not accessible if you've made further modifications. Remove the custom ad blocker rule(s) and the page will load as expected.