Ad blocker interference detected!
Wikia is a free-to-use site that makes money from advertising. We have a modified experience for viewers using ad blockers

Wikia is not accessible if you've made further modifications. Remove the custom ad blocker rule(s) and the page will load as expected.
Dual Gunners is one of the two major classes in the Gunner Circle. They use two Synergen guns. They have neutral base of range, attack, HP and MP. They have high attack speed and critical hit chances but compensated in low defense. This class  has average neutral stats compared to other classes.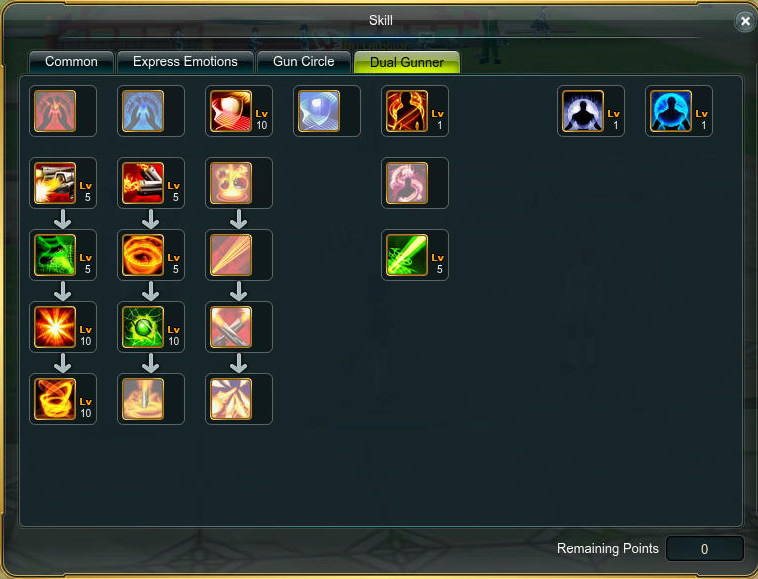 | Skill Name | Image | Description | Level Requirements | Skill Requirements | Skill Points | Equipped Tool | Usable Range | Cool Time | Used MP | Target Numbers | Coverage Range |
| --- | --- | --- | --- | --- | --- | --- | --- | --- | --- | --- | --- |
| Tension Recovery | | Uses tension to recover HP and MP. | Level 1 | N/A | 5 | All tools | 20 | 5sec | Used Tension: 1 | 1 | N/A |
| Duel Gun Mastery | | Allows you to master duel gunner skills | Level 10 | Duel Gun Mastery | 0 | Duel Gun | N/A | N/A | N/A | N/A | N/A |
| HP Gunner | | Your total amount of HP is increased when a Dual Gun is equipped. | Level 10 | Dual Gun Mastery | 2 | Dual Gun | N/A | N/A | N/A | N/A | N/A |
| MP Gunner | | Your total amount of MP is increased when a Dual Gun is equipped. | Level 10 | Dual Gun Mastery | 2 | Dual Gun | N/A | N/A | N/A | N/A | N/A |
| Steady Hands | | Your attack power is increased when a Dual Gun is equipped. | Level 10 | Dual Gun Mastery | 2 | Dual gun | N/A | N/A | N/A | N/A | N/A |
| Combat Suit | | Your defense is increased when a Dual Gun is equipped. | Level 10 | Dual Gun Mastery | 2 | Dual Gun | N/A | N/A | N/A | N/A | N/A |
| Tension Multi-Shot | | Attacks enemies with a fiery barrage by consuming two gauges of tension. | Level 10 | Dual Gun Mastery | 5 | Heavy Launcher/Dual Gun | 180 | 6sec | N/A | 6 | 60 |
| Multi Fire | | Shoots a series of rapid shots toward the enemies and pushes them back. | Level 10 | Duel Gun Mastery | 5 | Duel Gun | 180 | 8sec | 16 | 3 | 50 |
| Weakness | | Fires at the enemies' weak point, slowing them for a short time. | Level 10 | Duel Gun Mastery | 5 | Duel Gun | 180 | 10sec | 16 | 3 | 50 |
| Light Grenades | | Throws flash bombs at your enemies, blinding them for a short period. | Level 10 | Duel Gun Mastery | 5 | Duel Gun | 80 | 11sec | 16 | 3 | 50 |
| Concentration | | Reduces skill cooldown for a short period. | Level 10 | Duel Gun Mastery | 5 | Duel Gun | 180 | 45sec | 16 | 1 | N/A |
| Slow Marble Bomb | | Hit enemies in a straight line forward with grenades that slow their movement speed. | Level 15 | Multi Fire | 5 | Duel Gun | 150 | 12sec | 27 | 3 | 180 |
| Spin Shot | | Spin your body to fire at multiple enemies. | Level 15 | Weakness | 5 | Duel Gun | 150 | 10sec | 27 | 3 | 100 |
| Intensive Shot | | Shoots enemies intensively for a short period, pushing them away. | Level 15 | Light Grenade | 5 | Duel Gun | 150 | 11sec | 27 | 3 | 50 |
| Critical Shot | | Charges your gun to increase the critical rate for a certain time. | Level 15 | Duel Gun Mastery | 5 | Duel Gun | N/A | 10sec | 24 | 5 | 200 |
| Extension Shot | | Fires an explosive shot that detonates and damages enemies in range. Enemies will be frozen and silenced for a short period. | level 20 | Slow Marble Bomb | 5 | Duel Gun | 150 | 10sec | 40 | 3 | 50 |
| Extreme Fire | | Activates your turbo boost, increasing attack speed for a period of time. | Level 20 | Spin Shot | 5 | Duel Gun | N/A | 60sec | 40 | 1 | N/A |
| Cross Fire | | Fires both guns rapidly, pushing away your enemies. Player is invincible during skill duration. Useful when surrounded by enemies. | Level 20 | Intensive Shot | 5 | Duel Gun | 150 | 12sec | 40 | 4 | 150 |
| Air Spin Shot | | Leaps into the air and fire shots downward at surrounding enemies, silencing them for a short period. | Level 25 | Extension Shot | 5 | Duel Gun | 180 | 14sec | 49 | 3 | 100 |
| Nuclear Shot | | Jumps up and fire deadly explosives, damaging and pushing back enemies. | Level 25 | Extreme Fire | 5 | Duel Gun | 80 | 14sec | 49 | 3 | 100 |
| Rolling Shot | | Fires your gun in mid-air with at surrounding enemies. Player is invincible during skill duration. | Level 25 | Cross Fire | 5 | Duel Gun | 180 | 12sec | 49 | 3 | 180 |