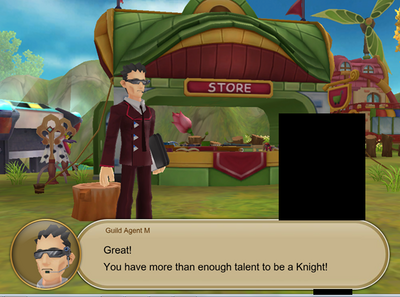 Congrats! You have just survived your first Dungeon. There will be many more to come, but for now take a slight breather and relax, you've succeeded in becoming a Knight!
Quest Procedure - Dragon School:
Edit
1. Return for confirmation
Return for confirmation
GOAL: Reach Knight Shelter
--Cutscene:--
M: "Great! You have more than enough talent to become a Knight!"
--The Knight cheers.--
2. Meet Guild Agent M
Get the confirmation and reward from Guild Agent M.
GOAL: Find Aguild Agent M.
M: "Great job! You got what it takes to be a Knight of Kasmari!"
Knight: "Thank you!"
M: "The road to Knighthood is very hard... I belive in you."
Knight: "Yes... I understand."
Quest Procedure - Owl School:
Edit
100 Mar
362 EXP
10Lv Quest reward box
Ad blocker interference detected!
Wikia is a free-to-use site that makes money from advertising. We have a modified experience for viewers using ad blockers

Wikia is not accessible if you've made further modifications. Remove the custom ad blocker rule(s) and the page will load as expected.