A premium shop, called the Samba Shop in Remnant Knights, is where you can purchase cosmetic, utility, and time-saving items. Items are purchased with Sambas, which are bought with real world money.
Players can do surveys to earn free Sambas instead of buying them. Just simply go to the Samba purchase page (either from GameSamba or in the game's premium shop) and chose the "Earn free Sambas" option at the bottom.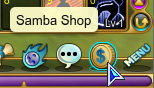 To get to the Samba shop, click the coin icon at the bottom right of the screen when in game. A window will pop-up and will show you shop news and a quick look at featured or items on sale. This also where you can redeem codes and buy Sambas (the premium shop currency) from in-game.
Click the "Enter Shop" button to enter the shop and start browsing all the items we have available. Be sure to keep checking every week for sales and featured items to get great deals.
Click "Redeem Code" to redeem any promotional or special code you might have. You'll be asked to type the code in on the next screen. If an error occurs and you're certain it's an issue with the code, please contact the Game Master on duty and/or.
Items purchased or redeemed from a code will appear in your Item Bank momentarily. Press "b" after exiting the shop to open it. Or click the Community tab on the bottom right and select "Item Bank". You can not put items back into the Item Bank.
Left-click the item(s) to move them to your Inventpry. Take note that if the item has an expiry date, the countdown will begin the moment you move it to your Inventory, regardless if you use the item or not. Leave limited time items in your Item Bank to keep them from expiring before you use them.
If items don't appear, the shop isn't loading correctly, or you are experiencing any other billing or account related issue, please send in a ticket and we'll be happy to assist you.
Ad blocker interference detected!
Wikia is a free-to-use site that makes money from advertising. We have a modified experience for viewers using ad blockers

Wikia is not accessible if you've made further modifications. Remove the custom ad blocker rule(s) and the page will load as expected.